Baron Philippe de Rothschild SA presents the new Mouton Cadet
Baron Philippe de Rothschild SA unveils the new Mouton Cadet, the outcome of many years of work which began in 2004. Having gained complete control over its sources of supply, from vineyard practices to vinification, Mouton Cadet is changing its style. Rounder, smoother and more succulent, it will be revealed in a world exclusive at the ProWein Trade Fair in Düsseldorf from 19 to 21 March 2017.
Always attentive to consumers, the technical and quality staff of Baron Philippe de Rothschild have carried out a number of tests and studies in recent years, canvassing over 2,000 professionals, journalists and wine lovers in several countries. The surveys generated conclusive results which have led to a new style for Mouton Cadet. As a result of complete control over sources of supply and close cooperation with 453 partner winegrowers, the changes became possible from the 2015 vintage.
Working closely with the technical staff, who are at their side all year round, our partner winegrowers cultivate 1,520 hectares (3,750 acres) of vines in the best terroirs, almost half of them now in the Côtes de Bordeaux.
Know-how in the heart of the vineyard
Baron Philippe de Rothschild SA's winemakers work with our partner winegrowers throughout the entire process of making Mouton Cadet wines in order to combine technical skill with knowledge of the terroir. The key factor is human action at all stages, motivated by a passion for the vine and founded on a relationship of trust in order to get the very best out of each selected parcel. Together, they have a single aim: to produce grapes under the best possible conditions, achieving maximum concentration and optimum maturity.
The Mouton Cadet style: even more succulent!
The new Mouton Cadet style is revealed with the 2015 vintage: a round, smooth, succulent wine, even crisper and with even purer fruit.
"The sheer extent of the Bordeaux vineyard means that we can choose the best", says Pierre Lambert, Baron Philippe de Rothschild SA's head winemaker. "Merlot predominates in Mouton Cadet red, underpinned by the tannic structure of Cabernet Sauvignon and the elegance of Cabernet Franc. For Mouton Cadet white, Sémillon and Muscadelle are combined with a significant proportion of Sauvignon, giving more fresh fruit and boxwood aromas and flavours. And while Merlot gives Mouton Cadet rosé its fresh red fruit flavours, a judicious amount of Cabernet Franc and Cabernet Sauvignon adds a pleasant tannic structure. Mouton Cadet Sauvignon Blanc, fresh and elegant, made entirely with a single grape variety, is a highly aromatic dry wine, lively and crisp."de Bordeaux est grand et cela nous permet de choisir le meilleur », insiste Pierre Lambert, Winemaker de Baron Philippe de Rothschild SA. 
A new look
Reflecting this change, Mouton Cadet wines have been given elegant, lighter and airier new packaging.
From the label proudly bearing a modernised "Barbacchus" – a logo recognised as a strong marker of the brand's identity – to the addition of coloured curls which recall bunches of grapes, the visual identity of Mouton Cadet echoes this fresh impetus. The capsule is bordeaux red for Mouton Cadet red, gold for Mouton Cadet white, silver for Mouton Cadet rosé and green for Mouton Cadet Sauvignon Blanc.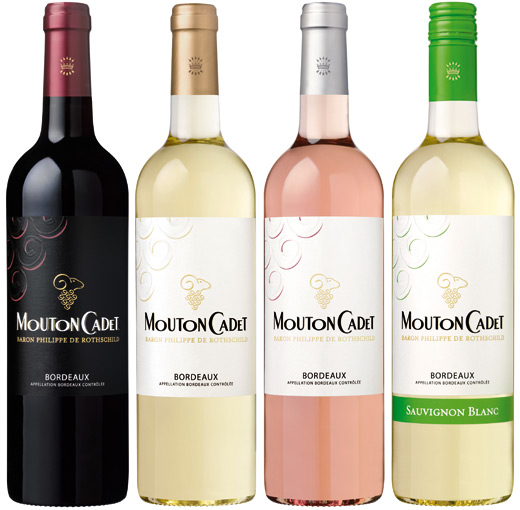 A rich and colourful range
Although Mouton Cadet red is the founding pillar of the brand, it has now been joined by its inseparable companions Mouton Cadet white, Mouton Cadet rosé and, more recently, Mouton Cadet Sauvignon Blanc. Fruit-driven, fresh and succulent, these wines reflect current consumer preferences, being easy to drink and made to be enjoyed young.
Mouton Cadet Réserve: a range for selective outlets
Comprising seven wines from prestigious Bordeaux appellations, the range is intended exclusively for wine merchants, gourmet food stores, hotels and restaurants. In order to distinguish themselves from the classic range, the wines in the Mouton Cadet Réserve range are more powerful, with refined oak to give them even greater finesse and elegance.
As with the premium range as a whole, Mouton Cadet Réserve Bordeaux red and white, Mouton Cadet Réserve Graves red and white, Mouton Cadet Réserve Médoc, Mouton Cadet Réserve Saint-Emilion and Mouton Cadet Réserve Sauternes have dispensed with labels in favour of highly refined screen-printing directly on the bottle.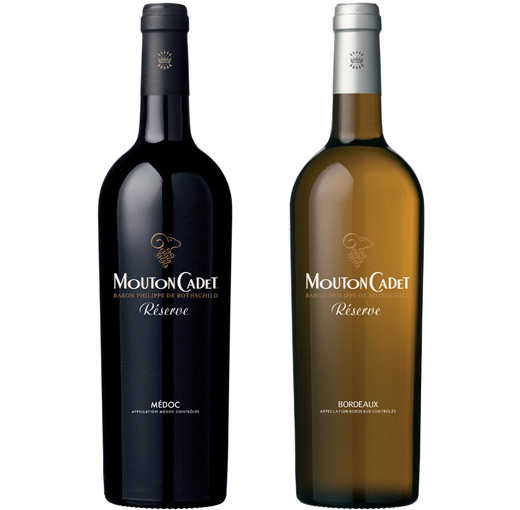 The red wines in the new Mouton Cadet and Mouton Cadet Réserve range will be available from September at outlets in the 150 countries where they are distributed. The white and rosé wines in the new Mouton Cadet and Mouton Cadet Réserve range will be available in spring 2018.